Sat, 2005-11-26 00:12 —

bfields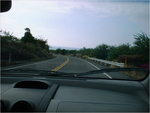 Today was the day to leave our hut and continue our clockwise tour of the big island towards our Kailua-Kona bed and breakfast.
In all I think we probably did more driving than either of us have done in years. We spread our still-wet clothing over the back seat, but it didn't dry even after we'd passed the southermost tip of the US (near where we stopped for a boring but OK lunch), so we brought back to the dry side of the island a musty smell to remind us of the rain forest.
We escaped the smelly car to visit Pu`uhonua o Honaunau National Historical Park and walk along their self-guided tour.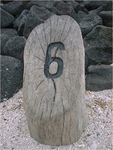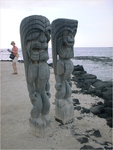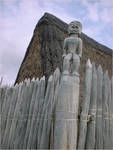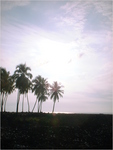 We also stopped a while in a little town where Sara picked up some fabric and I remedied a couple problems at a local drugstore:
I realized that I had left my watch beside the tide pools the day before. My watch (a Casio LA11WB-1) has the best countdown alarm ever: it only supports seven fixed intervals (1, 3, 5, 10, 15, 20, or 30 minutes), but that's enough, and you can operate it very quickly without even looking at the watch face. So I was delighted that they had a version of the same watch for about $12.
Since Ajit gave us this digital camera I've prided myself in my second-rate photography. But on this vacation I'd had a plan: to replace the bad photography with far, far worse drawing. I hadn't gone so far as to actually purchase any supplies, though, and given how rural most of the island is, this was the first time I'd run across a place selling ordinary unlined paper.
Once we found the bed and breakfast in the dark, the owner recommended a restaurant as being particularly representative of the local food. We found our food there fine but boring. The traditional hawaiian taste seems to run towards slightly boring. But I was glad to have tried it. (And my dinner--shrimp in some sort of coconut thing--was tastier than Sara's.)