Wed, 2005-06-01 22:43 —

bfields
I did some more computer stuff Monday. In the afternoon my parents dropped me off at the Takoma Park metro station and I did last weeks trip in reverse: metro to Union Station, train to Toledo, bus to Ann Arbor, then a walk back to work.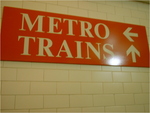 I had a nice time sitting in the lounge car eating dinner and alternately reading and watching the world go by.
I read some more of "House of Leaves", and made it through another quarter or so of the very fat complete version of "Bone" that Helen loaned me before I left. I also watched most of "In Good Company", which was an irritatingly predictable Hollywood treatment of some supposedly relevant topic (corporate layoffs and politics--but does it really matter what?).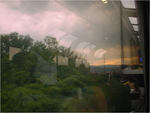 The train was very crowded--presumably everyone was returning from Memorial day weekend--so for once I actually had a seatmate. I tried hard, but just didn't manage to get any significant amount of sleep at all, so by the time I made it to work Tuesday morning I was pretty shot.
So by early afternoon I split and took a long nap at home. I was worried that'd throw off my sleep schedule even more, but as it turned out I had no trouble getting to sleep again that night.