Sat, 2005-12-31 17:13 —

bfields
We visited the Gilbert, Arizona Riperian Preserve with Sara's parents. The quantity and variety of birds was impressive, especially for such an urban (well, suburban, anyway) area.
I don't take pictures systematically, to document things; I just like to do it every now and then when it seems like fun. For some reason I took a bunch of pictures at the preserve. Not of the birds, though--they weren't necessarily that far away, but they still would've looked like specks with no telephoto lens and an old low-resolution digital camera.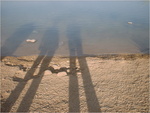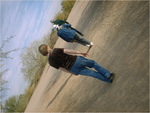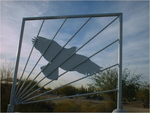 We got back just in time to leave again to meet some more of Sara's high school friends, Melissa and Clint (with three kids), Tim and Dawn (with one kid), and Omo. We met at Peter Piper Pizza. This turns out be a sort of kids casino, dealing in at least two proprietary currencies--tokens, which can be bought with cash, possibly as a package deal with pizza, and tickets, which are spit out by the various video games and can be redeemed for various stuffed animals, small toys, etc.
So while the kids generated tickets and trinkets, we ate some pizza and had a pleasant chat with the parents. Melissa and Clint had been having a somewhat trouble-frought vacation, with sicknesses, misplaced keys, and work emergencies. Tim and Dawn seemed preoccupied with, and somewhat exhausted by, their kid. Omo was fresh from a shopping exhibition with the goal of finding his mother an outdoor fireplace.
The pizza, which we ordered with jalapenos, wasn't that great, but even bad pizza is OK, so we were happy enough.