Sun, 2007-01-21 22:35 —

bfields
Today Get Downtown held a "worst day of the year" ride as part of a program to promote year-round cycling. The weather worked out pretty well--I don't think you could say it was really *the* worst day of the year, but it was respectable by local standards--a high in the mid twenties, snow on the ground, and more snow coming down throughout the day.
I didn't ride--I'm a firm believer in riding to get from point A to point B rather than riding around in circles just for the heck of it. But it seemed like something worth supporting, so I showed up at the end to help park (and keep an eye on) people's bicycles outside the local brewpub where they were holding the post-ride celebration.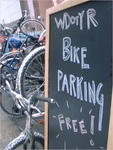 So, I stood out in the cold for a while, went in for a pint and some of the free snacks, stood out in the cold some more, then went back in for another pint. (I'm more of a one-pint-at-a-time person, but someone offered to buy me a second one, so what could I do).
I walked back home by way of the coop, bringing home a few groceries. It was quite a day for walking--I'd also walked in by way of the (not at all on the way) bike store, intending to pick up my repaired bike, but found them closed.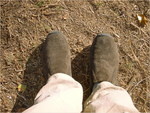 The new shoes I got in Arizona are holding up well.