Wed, 2005-07-20 10:03 —

bfields
Tuesday morning I did my laundry and packed, then caught the airport shuttle at noon. By 4 I was in Ottawa.
I took the bus downtown, registered for the meeting, had a quick dinner, then stopped by my bed and breakfast (the "Auberge King Edward") to meet the owner and pick up keys.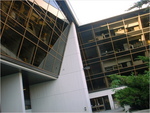 I wandered around the nearby university campus a bit, then picked up a couple comic books and went to the opening night party for a while.
I managed a personal record for light packing:
Just three days' worth of clothes, including what I'm wearing--I'll just have to do some laundry. The "Lava Java" laundromat/coffee house a couple blocks from the B&B looks like a good place to hang out.
No shaver--I'm buying disposables and learning how to use them. I've actually only used an electric shaver before, so that's kind of an adventure.
No rain gear--if it starts raining, I get wet. I may have to do some shopping while I'm here--my only rain jacket has actually stopped repelling water.
Only disposable reading material--I brought a few old New Yorkers to catch up on during my flight, then threw them out at the Ottawa airport.
So I get to just use my regular backpack, and it's not even much more full than usual. If I can do the same for my Paris trip, I'll be happy.