Fri, 2005-11-25 19:47 —

bfields
I return to this thing after ignoring it for a couple months and find there are entire weeks that I can't find anything interesting to say about. Does that mean I may as well have not lived those weeks? Did I do lots of interesting things that I do remember but just can't associate with those weeks? Who knows.
I do remember Peter B. from Lustre visiting us for a day at work, which was very interesting, though cut short somewhat--it turned out he was only in town for a day (which I find bizarre--if I'm going somewhere for a day I'd just as soon stay a little longer...), and for some reason we'd thought he be there a couple days.
On Friday, the 7th we went to the our first Japanese film series movie for the fall, "Diary of a Shinjuku Thief", which I can't really say I understood but was fun to watch. We had Dosai at Madras Masala beforehand.
Graham, Nicole, and Azalea visited us for Saturday, the 8th, and we did the usual things--breakfast out, lunch at Madras Masala (I have a high Dosa tolerance), lots of Graham's obsessive grocery shopping in between. Nicole was irritated at Graham for the obsessive grocery shopping and the non-stop travelling with baby in tow. Both of them seemed to think Azalea was in a terrible mood, though she seemed pretty agreeable to us, so she must be a relatively quiet baby. We enjoyed seeing them in any case--next time we'll have to visit there.
Sara showed us all some huge puffball mushrooms in the forest on the other side of Broadway, and we brought a couple home. One of them barely fit on the shelf in our refrigerator.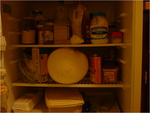 Tuesday, the 11th, our science fiction/fantasy book group had its annual book-choosing meeting, which has become increasingly long and contentious as more people have started showing up with more suggestions. In the end we came up with a pretty interesting list, I think.
Friday, the 14th, we saw the Cowboy Bebop movie at the japanese film series. One of the characters is a Corgi, a big attraction for Sara, but maybe a bit of a disappointment in the end--the dog was cute but didn't really do that much. The movie had its points but some of it (especially the ending) seemed kind of uninteresting.