Fri, 2005-11-25 23:42 —

bfields
The Sunday market just off the highway a little past Pahoa was an odd flea market/farmer's market combination with a lot of hippie-ish locals hanging around. We walked through everything once then picked up some food (crêpes and barbequed rice triangles) which we ate at a picnic shelter at Lava Tree State Monument on our way to the coast afterwards. It was, as usual, raining, so we were grateful for the shelter, though it didn't protect us from the mosquitos.
Our coastal goal was the Kahopo tide pools, which we'd heard were fun for snorkeling. On the way there we also stopped by a big warm tidal pool for Sara to swim a little, then got lost on the mesh of little gravel roads in the subdivision surrounding the tide pools.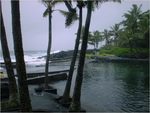 The snorkeling was neat once I figured out where I was supposed to put my mouth and got over the strangeness of breathing with my face in the water. You get to see weird tropical fish like you'd normally only see in someone's aquarium, but they're just hanging out there among the coral.
I managed to cut myself on some lava, so we cut it short and headed back.
On the way back we had our first long drive along a one-lane road carrying two-way traffic. I got the hang of it after a while, though I was a lot more timid about it than any of the locals.
There were surfers out at Isaac Hale Beach Park, so we stopped watched a while; when the rain picked up again Sara retreated to the car, and I followed a few minutes later.
For some reason I'd thought it'd be a good idea to go in the tidepools with my t-shirt on and between that and the rain we had a lot of extremely wet clothing.
We set our clothes out on the porch in hopes that they might dry a little if it ever stopped raining for long enough, then we had another dinner in our pleasant little hut and went to sleep.