Fri, 2005-11-25 21:33 —

bfields
Sara, Patty, Kirk, Nate, and I checked out of the hotel, drove to a nearby mall for breakfast (mostly smoothies, surprisingly yummy ones) and looked around a bit, then Sara and I went ahead on our own on the long drive to the other side of the island.
The transition was abrupt and dramatic--we drove into a cloud of humidity, leaving the desert behind and entering a world where everything was green and rainy.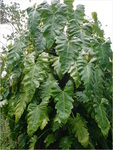 We stopped here and there, in particular to walk to views of a couple of impressive waterfalls. The rain-forest vegetation was crazy.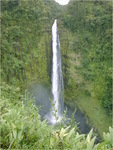 In Hilo we parked and walked around downtown a bit. We tried to find a couple restaurants from our guidebook, but it was too late by then (most seemed to close around 2pm), so we walked into a random café where Sara got a pretty terrible salad, but I somehow managed to get a pretty good sandwich and corn chowder.
We poked around the farmer's market a bit--just a few stalls at the time--and picked up some rambutans and papayas.
An hour's rainy drive later we got to the house for the night, unpacked and waited for the others. When they arrived we went for dinner at a local Thai restaurant--pretty good, but too hot for everyone to enjoy.
They were leaving the next day and wanted to see at least something of the volcano, so decided to take the long drive down Chain of Craters road to see what we could of the lava.
It was late at that point, we were all still a little jet-lagged, and the drive down to the lava had all the disadvantages of a narrow twisty mountain road with none of the usual advantages, it being pitch black by this time. But we all made it to the bottom (after losing touch and getting a bit confused about what had happened to the other car) and saw the lava.
It was just a bit of glowing red off in the distance, but was still neat to see. We tried walking a little farther after the road ended, but it didn't look like that would improve the view significantly without walking a lot farther across much more rugged terrain than we were prepared for. So we took the long drive back home and slept. Finally!